For those that want to stay in the loop about the WGA negotiations here's a message from the WGA about why they feel packaging should end.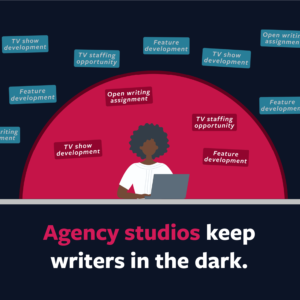 "Throughout the agency negotiation, writers and the Guild have made it clear that agency-owned production studios are not acceptable. This piece of our agenda has often been overshadowed by a focus on the conversation over ending packaging fees. But the insidious threat of our representatives becoming our employers cannot be ignored. In response, some Guild members have prepared a video to explain the evolution of agency studios and why, if left unchecked, their existence will increasingly undermine compensation for all talent. Please watch and share the video."
Leave a comment, let us know what you think about the negotiations and the video.