Matthew Rasmussen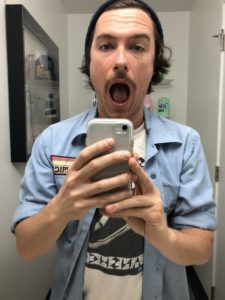 Matthew was born in Texas and grew up in Oklahoma, a confusing conundrum for someone who went on to graduate proudly from the University of Texas.  His cooler accomplishments include log-lining an entire season of Daria in seventh grade; he even fan-fic'ed a few episodes, which thankfully didn't survive Y2K.  He savors stories about freak-flag-flying folks raising a middle finger to the traumas of their lives. Sweet spots include teens, genre, sci-fi, period drama, and death as the great unknown. He loves working with/for women, reads everything twice, and lives for the collab.
Pilot Title: GHOSTFACE IS MY BOYFRIEND
Logline: A clique of high school out-crowd nobodies finds themselves at the center of a serial killer's spree.
Genre: Teen, Horror, Dramedy, Hour-Long
Ben Blacker boosted for the #WGASolidarityChallenge 
Pilot Title: BLACK REIGN
Logline: Amidst the otherwise glorious reign of Louis XIV in 1600s France, a sinister underground network of Satanists infiltrates the royal court.
Genre: Drama, Period, Hour-Long
Pilot Title: OFFSHORE
Logline: In 1920s Los Angeles, a Prohibition-era bootlegger becomes an illicit gambling czar over the lawless waters of the Pacific Ocean.
Genre: Drama, Mob, Period, Hour-Long
https://directories.wga.org/member/6c637139-9471-4b9c-a4ef-6ade07cb72a3
---
Julian Ouanès

Julian Ouanès knew he wanted to be a storyteller since the age of 15 when he found himself in Sri Lanka being interrogated by terrorists known as the Tamil Tigers. He was trying to film a doc– "This will make a great story one day, if I get out of here alive," he thought. Fast forward to 2011, Julian's on set producing his first short film when the (schizophrenic) homeowner of the filming location told Julian that a hitman from Venice Beach was on his way to murder him. Inspired and terrified by these experiences Julian stopped producing things and started writing them. The day after graduating from American Film Institute, he landed a gig in the FALLING SKIES (TNT) writer's room and has since worked on THE ART OF MORE (Crackle), TAKEN (NBC), and POWER (Starz). Julian is currently a Staff Writer on the POWER Spinoff, working tirelessly to turn his passions– rap, drug dealing, gambling, heists– into TV shows.
Pilot Title: FLOWERS
Logline: A look at marijuana legalization through the intersecting POVs of a small-time high school dealer, a big-time dispensary, and the corporations trying to cash in on the Green Rush.
Genre: Drama, Hour-Long, Crime
Pilot Title: CHOPPED & SCREWED
Logline: A Houston rapper struggling to break through steals the motherload of "drank," the city's drug of choice, to jumpstart his career.
Genre: Drama, Hour-Long, Crime
---
Frank J. Gaydos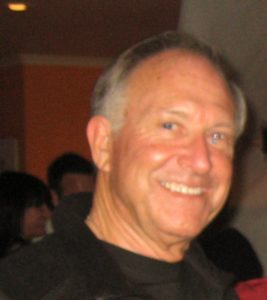 Frank J. Gaydos I'm a former organization development consultant who moved from Los Angeles to San Miguel de Allende Mexico and reinvented himself as a screen/TV writer.
Pilot Title: Hotel Mañana
Genre: Romantic, Comedy
Pilot Title: Reboot
Genre: Comedy
Pilot Title: Worst Friends Forever
Genre: Comedy
Pilot Title: Black Dispatches (6-part mini-series)
Logline: During the Civil war, a former slave, educated in the north returns to his southern roots as a spy for Allan Pinkerton and the Secret Service.
Genre: Drama
Pilot Title: Letters from Antonieta: (6-part Mini-series) Historical Drama
Genre: Drama
---
Jacey Heldrich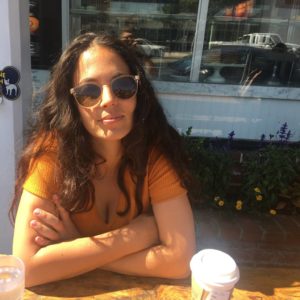 After graduating from Columbia University's MFA film program, Jacey moved from NYC to LA, where she landed as assistant to Jonathan Nolan, working onPerson of Interest (CBS) and Westworld (HBO). She co-wrote episode 511 of Person of Interest. In 2016, she was featured on The Tracking Board's Young and Hungry list. She is currently a staff writer on Hulu's Emmy winning The Handmaid's Tale.
---
Sabrina Sherif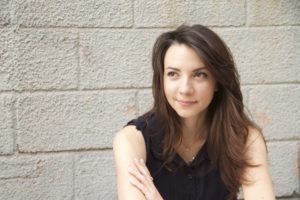 Having lived in Spain, Canada, and the US, Algerian-Canadian writer Sabrina Sherif is the product of many cultures. From a young age, her parents used TV shows like THE FRESH PRINCE OF BEL-AIR and BUFFY THE VAMPIRE SLAYER to teach her English. In 2014, she obtained her MFA from USC's School of Cinematic Arts, and has since worked on shows for Warner Brothers, Netflix and Hulu. Sabrina's main focus as a writer is coming-of-age stories, which are, to her, a microcosm of the human experience. She is currently a Story Editor on an upcoming YA series for Hulu.
---
Joey Day Hargrove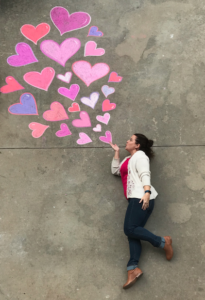 Joey Day Hargrove lives in Burbank with her husband, stepdaughter and dog — all who feature prominently in her scripts. (Shh, please don't tell them!) She likes to write female-centered comedies. She has worked in development in the industry but is currently running after school porgams for kids to allow more time for her writing. Her scripts have won several screenwriting contests and fellowships, including the Austin Film Festival.
Pilot Title: Stepmoms
Logline: Lacey, Cate and Joy are three very different women, but they form their own Second Wives Club as they forge a friendship over the struggles of being stepmoms.
Genre: Family, Comedy
Pilot Title: Woman's Best Friend
Logline: When a lonely woman accidentally wishes to make her beloved dog human, she realizes quickly that the qualities that make a good pet don't always translate to a good human best friend.
Genre: Comedy
Pilot Title: Fast Forward
Logline: After spending a weekend away, a group of girlfriends return to their lives in Los Angeles, to discover the world has moved forward ten years — without them.
Genre: Action, Drama, Comedy, Sci Fi
---
Marque Franklin-Williams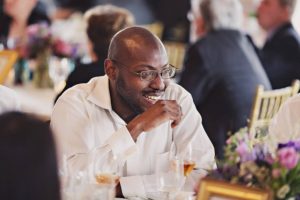 Born in wintry Boston and raised on tropical Barbados, Marque's whole life has been spent straddling two different worlds. He grew up in Roxbury's inner city, but attended a private school in Cambridge, MA. He came from a working class family, but entered an Ivy League university. And though his heart and soul reside on the east coast, he moved to Los Angeles to follow his true passion… really good Mexican food.
Pilot Title: Black Caesar
Logline: Based on a true story. An African chief escapes from slavery, but must now turn to piracy to survive. Hunted by the Navy, slavers, and privateers, he struggles to return home and rebuild his lost family.
Genre: Drama, Hour Long, Period, Historical