Alex Berger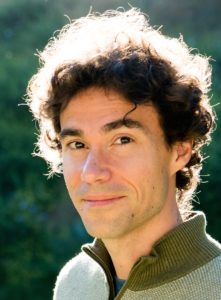 Alexander Berger is a seasoned Script Coordinator (QUEEN SUGAR and RAY DONOVAN) with roots in Philly and Tucson. Coming from a loving family filled with divorces, he's accustomed to conflict and irony. In his writing, he's mostly drawn to alienation, crime, culture clashes, and life & death stakes. He writes to make sense of an insane world. His features have reached the Semifinals of the Nicholl Fellowships, and his TV specs & pilots have won several awards (Cannes, Austin, Nashville, Fresh Voices, etc.). However, before focusing on writing, he attended NYU's Tisch School of the Arts where he studied all aspects of Film/TV and edited a short documentary which won honorable mention at the Sundance Film Festival. He's now happily married and enjoys endurance sports such as running, biking, and raising two kids.
Pilot Title: BLOOD ON THE WALL
Logline: A brilliant, black, teenage muralist uses his newfound fame in the Philadelphia art world to fight the violence in his neighborhood, but he's caught between a drug dealer and a cop who vie for power and attack his every move.
Genre: Hour Long, Crime, Drama, Urban, Young Adult.
Pilot Title: GUNS OF SABINO CANYON
Logline: A contemporary Western in which the heroic outlaw is an undocumented immigrant from Guatemala who is forced to return to her roots as a gunslinger to fight off a xenophobic sheriff and a vicious gang that threatens her family.
Genre: Hour Long, Crime, Drama, Western, Immigrant, Young Adult.
---
JAMIE BESS TUNKEL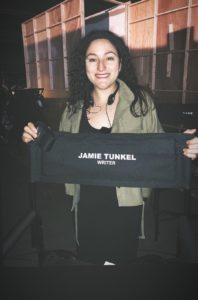 Jamie Tunkel graduated from USC with a BFA in Writing for Screen and Television. While most people might hang their diplomas, she instead framed her Elementary School Spelling Bee Certificate… for Runner Up. She remembers the word she misspelled and thinks about it daily. Jamie worked as a Script Coordinator on QUEEN SUGAR, FBI, GENTEFIED, and HIGH FIDELITY. Recently, she co-wrote an episode of GENTEFIED, a forthcoming Netflix dramedy. She's currently the Script Coordinator on a new show for HBO. Jamie writes dramedies, often featuring complicated women — cause women aren't "strong" all of the time and that's okay.
Pilot Title: Homeschooled
Logline: Samantha Lovejoy spent the past decade teaching abroad, but when a family tragedy brings her back home, she takes a job at the local elementary school… only to discover that her students are the children of her former high school classmates.
Genre: Half-Hour Dramedy
Pilot Title: Gold Star Students
Logline: High-achieving high school sophomores become embroiled in a murder mystery that threatens to derail their perfectly planned out futures.
Genre: Hour-Long, Young Adult, Murder Mystery, Drama
---
Teresa Huang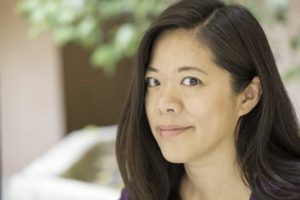 Teresa Huang was raised to be a doctor but born to be an artist. A genuine MIT graduate, she gave up problem sets and thermodynamics to become a writer, actor, and producer. Her parents are still scratching their heads. Teresa's original pilot CHILDREN OF EDEN was a Finalist in the Script Pipeline TV Writing Competition. She is a graduate of the CBS Writers Mentoring Program and was named a WGA TV Writer Access Project honoree. She was most recently a Staff Writer on SEAL TEAM on CBS.  Her superpowers include power napping, parallel parking, and spending too much money at farmer's markets.
Pilot Title: The Chain
Logline: When a privileged Senator wakes up in someone else's body the day after being elected Vice-President of the United States, he returns to Washington D.C. and discovers he's part of a chain reaction of unsuspecting individuals who've swapped bodies – a chain whose purpose and end are unknown.
Genre: Sci Fi, Action, Drama
Pilot Title: The Vineyard
Logline: When a young maid discovers she's pregnant after being sexually assaulted by her rich employer, she forces him into a sham marriage in exchange for her silence about his crime, only to discover that she's blackmailed her way into a world that isn't as glittery as it appears. Old money meets new ambition in this scandalous drama that's Revenge meets Romeo and Juliet.
Genre: Drama, Soap
Agent:  Dino Carlaftes, Kaplan Stahler Agency
Manager:  Julie Bloom, Art/Work Entertainment
---
Joshua V. Gilbert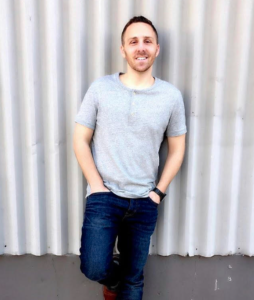 Josh was born and raised in the type of seedy neighborhood in Anaheim, CA that Disneyland likes to pretend does not exist, though he now lives with his wife and young son in Redondo Beach.  Josh spent ten years working as a Script Coordinator and Writers' Assistant, and in that time he worked tirelessly to hone his craft as a screenwriter.  And his diligence paid off as shortly after completing the WAN fellowship in 2017, Josh got staffed — and is now a Story Editor — on CW's The Flash.
Pilot Title: Boys of Summer
Logline: When superstar pitcher Cole Tremble comes out as the first openly gay athlete in American sports, a former political strategist uses her savvy to parlay Cole's bravery into a renaissance for Major League Baseball.
Genre: Sports, Drama
Manager: Nicholas Bogner (Affirmative Entertainment)
Agent: Michael Kolodny (Kaplan Stahler Agency)