Jaquie Brown
Jaquie Brown is a writer from Auckland, New Zealand who focuses on charcter driven dark comedy that supports diversity in storytelling and casting. She is represented by CAA and 3Arts and currently has a feature film and a TV series in development.
Genre: Feature, Half-Hour, Comedy, Dark Comedy.
---
Bianca J. Ursillo
Bianca J. Ursillo is a one-hour drama writer who originally hails from the suburbs of Rhode Island and holds an MFA in Dramatic Writing from NYU's Tisch School of Arts. She has worked as the director/showrunner's assistant for two seasons of AT&T's Audience Network drama series, FULL CIRCLE, and as a personal writer's assistant to Sheila Callaghan for two seasons of Showtime's SHAMELESS. Most recently, she was the writers' assistant for AMC Network's DISPATCHES FROM ELSEWHERE, created by Jason Segel, and co-wrote the story for the episode "Lee." Her DAMSEL pilot placed in the Quarter-Finals of The Script Pipeline TV Writing Competition, the Semi-Finals of The PAGE Award's TV Drama Pilot Competition, & the Second Round of The Austin Film Festival's AMC One Hour Pilot Contest. She's an alumna of the 2018 WAN Writers' Workshop, as well as a semi-finalist for NBC's 2019 WRITERS ON THE VERGE Fellowship and the 2019 Disney/ABC Writing Program.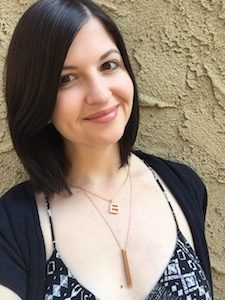 Representation: Andy Cohen, Grade A Entertainment
Pilot Title: DAMSEL
Logline: An enigmatic female vigilante must learn to curb her homicidal tendencies and team up with a secret FBI task force in order to protect her city from things that go bump in the night.
Genre: Hour Long, Drama, Fantasy, Action, Superhero, Female Empowerment, Feminism
Pilot Title: THE CLUB
Logline: Pushed to her limit after enduring years of abuse, a single mom chooses an unconventional outlet to manage her spiraling emotions… murder.
Genre: Hour Long, Drama, Family, Crime, Revenge, Sisterhood, Survival
---
Zimran Jacob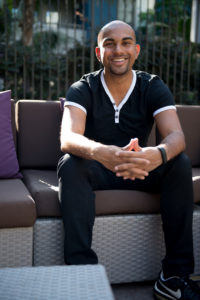 Zimran is a second-generation Indian writer. He has worked as an NBA Journalist, software start-up executive, dating and relationship coach, and financial advisor. He worked in finance at Gaumont and in writer's room on both Marvel and Netflix shows. He is a PGA Diversity Program Winner, Austin Film Festival Semi-Finalist, and WAN Fellowship Winner. He wrote SWAG which attached Kevin Pollak to direct. He writes dark, Shakespearean, Machiavellian character-based dramas and has an interest in crime stories.
Pilot Title: Heart of a Champion: Kobe and the Zen Master
Logline: An egotistical, decorated basketball coach must manage the egos of his superstar players, Shaq and Kobe, in the Laker's pursuit of an NBA title in 1999.
Genre: Drama, Sport, Historical
Pilot Title: The Queen and the Goddess: Coronation
Logline: An altruistic, pacifistic queen allies herself with the Hindu Goddess of War to defend her kingdom from invaders, demons, and internal conspirators as she builds her medieval Indian empire.
Genre: Drama, Fantasy, Historical, Period
---
Jeremy Burkett.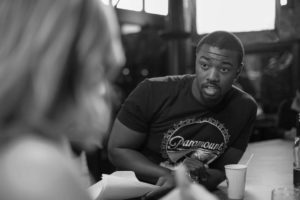 Jeremy Burkett is a screenwriting director from St. Louis, MO who has always been drawn to the exploration of society through story. He attended Howard University where he combined a love for journalism and his penchant for photography into a Bachelors of Arts in Film. After completing his aptly-named feature documentary (Bridging the Gap), Jeremy honed his craft at USC School of Cinematic Arts where he co-produced Student Academy Award nominated films Amelia's Closet and Mira. After receiving his MFA, Jeremy worked as a Writer's PA for Hulu's Shut Eye and later as a writer's assistant for BET's In Contempt. During the show's hiatus, Jeremy decided to pursue writing full time becoming a WAN Writer's Fellowship winner in the process. Currently Jeremy is fulfilling the Hollywood cliche of waiting tables to support himself as he uses the experience to gather ideas for his next slate of stories.
Pilot Title: Fuckboy 101
Logline: After an embarrassing encounter with an ex, womanizer Alex Gypsy locks himself out of his apartment and must decide whether to be a responsible adult, or risk it all on tonight's date.
Genre:  Comedy, Drama, Half Hour
Pilot Title: Koreatown
Logline: The newly-promoted deputy of a Korean Mafia syndicate wrestles with delivering his first kill while hunting the rivals responsible for destroying his clan's flagship business.
Genre: Crime, Drama, Hour-Long
---
Cole Fowler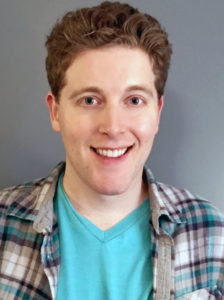 Cole is originally from Austin, Texas.  He graduated with a B.A. in Cinema-Television Critical Studies from the University of Southern California.  Cole spent 10 years as a writers' assistant, showrunner's assistant, and script coordinator.  He worked on the shows Brothers & Sisters, Fringe, Twisted, How to Get Away with Murder, and Stranger Things.  He's currently a writer on the Freeform drama Siren.  Cole's excited to bring more nuanced, three-dimensional LGBTQ+ characters to the screen.
Pilot Title: Hollywood Hustle
Logline: When a studio chief is murdered, the owner of an elite male escort service must convince his closeted gay clientele his service remains discreet, and even search for the truth about the killer himself, all while dodging the suspicious LAPD. (Set in 1947 Los Angeles.)
Genre: Drama/Crime
Manager: Dianne Fraser, Industry Entertainment
Agent: Cindy Mintz and Tahira Martemucci, Kaplan Stahler Agency
---
Gariela Lugo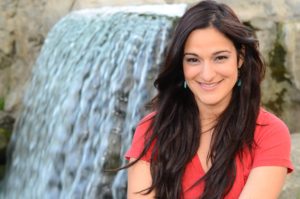 Gabby Revilla Lugo is a Nicaraguan-American writer and producer. In 2011, she founded her company, Revek Entertainment and has been producing feature films, short-form content, music videos and commercials with top talent in front of and behind the camera, with a strong focus on diversity and inclusion.Gabby is an accomplished writer for TV and Film. She has a feature currently in development at Marginal (Imagine). Gabby is a graduate of the Fox Writer's Program.
Pilot Title: Illegally Brown
Logline: Two undocumented sisters get deported from LA only to find themselves in Mexico, a land where they don't even speak the language. The millennials decide to use all their technological prowess to come home when they inadvertently get caught in an FBI terrorist sting operation. 
Genre: Dark Comedy, Feature
Pilot Title: Molly's Method
Logline: A successful marriage counselor stumbles intounconventional territory, as her own marriage fails. Following the event of a public meltdown, Molly Martinez, drunkenly sleeps with a client and discloses her observations on his failed marriage. She develops a new, unorthodox form, to help her clients.
Genre: Drama, TV